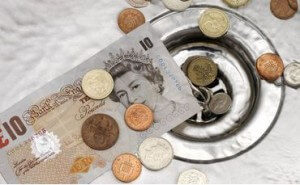 I've written twice before (here and here) about the severe problems with the British government's Universal Credit project. From my first post:
The British government has spent roughly half a billion pounds ($750M) developing a new IT system for its welfare services, with the goal of cutting down on fraud and loss. The project, by all accounts, has been significantly troubled for some time. Now, according to a new report in the Register, the new head of the project plans to take the "best" of what has been developed so far and move forward.
And from my second post:
The latest news article now states that the project has already written off £34 million and may end up writing off up to £200 million in work done to date. Given that only £303 million has been spent to date, that's a massive portion of the project.
In the second post, I raised the issue of septic code, that is, software so bad that it could not be salvaged.
Now, via the UK version of Computer Weekly, comes reports that all of the IT work done to date may be scrapped:
Computer Weekly has learned that a review by Universal Credit director general Howard Shiplee will recommend two options for the future of the IT developed so far, which go even further than previous reports have suggested.

One option would mean scrapping all the work done so far, thereby admitting it is not fit for purpose, and bringing most of the development of new IT systems in-house under the control of the Government Digital Service (GDS).

Option two would involve continuing to use some of the existing IT to support the current Pathfinder pilot projects, but developing new systems for the full roll-out – effectively delaying any decision to throw away all the work completed so far.

Whichever option is chosen, sources suggest it is likely that all the existing IT work will eventually be scrapped.
In all fairness, this does not necessarily mean that all the work done to date was so bad that it had to be scrapped. Instead, to the extent that any of the work done was actually done well, it may be so tightly coupled to work that was done poorly that it makes no sense to try to salvage it.
Money down the drain, indeed.

Webster is Principal and Founder at at Bruce F. Webster & Associates, as well as an Adjunct Professor for the BYU Computer Science Department. He works with organizations to help them with troubled or failed information technology (IT) projects. He has also worked in several dozen legal cases as a consultant and as a testifying expert, both in the United States and Japan. He can be reached at 303.502.4141 or at bwebster@bfwa.com.